Invisalign Providers In West Vancouver
Learn More About Invisalign
Treatment Near You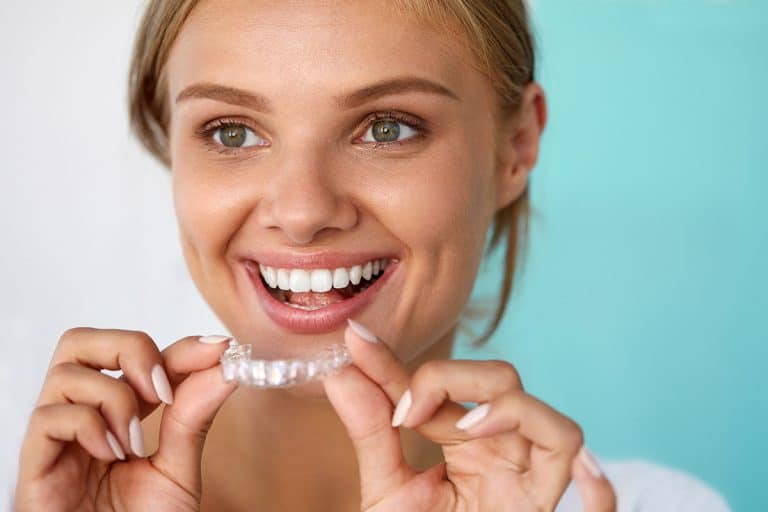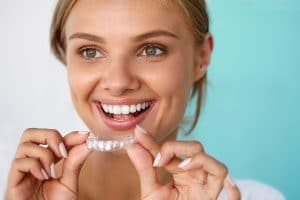 Your Invisalign West Vancouver provider is here to help you achieve your goals! Ever wanted straighter teeth? At South Royal Dental Centre we are here to help. Invisalign is a wire-free dental treatment that can take the place of traditional braces for some patients. If you're sensitive about the look and feel of wire braces, you may want to explore whether Invisalign is an option for you. Though not all patients are eligible for this type of treatment, there are some distinct advantages to Invisalign for those who can use it.
Visit Our Park Royal Dental Clinic Near You
How Does Invisalign Work?
Your Invisalign West Vancouver Provider Explains
Invisalign uses a series of clear plastic trays to move your teeth slowly into a new position. These trays free you from the traditional wires and brackets associated with braces. For some individuals, small plastic attachments are necessary on certain teeth to help keep the Invisalign tray in place. Rubber bands are used as well in some cases. Patients wear each tray for two weeks before switching to a new tray that will further adjust the teeth toward their new position. Most people use Invisalign for nine months to a year.
Invisalign can assist with:
Crowding
Overbite or underbite
Crossbite
Open bite
Gaps between the teeth
Slight straightening of the teeth
What's the Process for Getting Invisalign?
Learn how quickly Invisalign can straighten your teeth
The first step in getting clear aligners for your teeth is to speak with your Invisalign West Vancouver provider right here at South Royal Dental Centre. If he or she determines you are a good candidate for Invisalign, you'll proceed with a 3D scan of your teeth. This helps your dentist create a custom treatment plan for your smile. Using the information from the scan, your dentist will order your aligner trays. The 3D digital image of your teeth is used to create a close-fitting tray with individual trimming along the top for a comfortable fit.
How Do I Use Invisalign?
Learn about care, useage, and storage
You must wear your Invisalign trays for at least 22 hours a day for them to work effectively. You can remove them to eat, but you should keep them on at all other times. Those with Invisalign need to be particularly vigilant about dental hygiene. Having this tray in your mouth can change the pH balance. You should brush and floss carefully after every meal to make sure no food or plaque is trapped in the tray with your teeth.
Your Invisalign aligners require regular cleaning and care as well. You should brush your aligners daily and use the Invisalign cleaning system to prevent yellowing or discoloration and to keep the trays clear. Your dentist will give you several sets of trays that you're responsible for changing yourself every other week. You typically see your dentist every six to eight weeks with Invisalign, so you'll go through several trays between appointments.
What Side Effects Can I Experience With Invisalign?
What to look for
As with traditional braces, you can expect to feel some discomfort with Invisalign aligners, particularly when you first switch to a new tray. It can take some time to adjust to the feeling of an Invisalign aligner over your teeth. You may experience mild discomfort. This generally eases over time until you no longer notice the feeling of the trays in your mouth.
Some patients experience mild pain or discomfort from the attachments that are adhered to the teeth. These can scrape or irritate the soft tissue in the mouth. You can often get relief from this discomfort by speaking to your dentist about your options.
How Do I Know If Invisalign Is Right for Me?
Are clear aligners the best option for you
Invisalign is available to patients of all ages, but these aligner trays are not appropriate for all dental issues. If your teeth are extremely crooked, you have malocclusions, or you're dealing with a severe crossbite, you may find that Invisalign is not appropriate for your case. A consultation with your Invisalign West Vancouver provider or orthodontist is the only way to make a conclusive determination about whether this treatment can work for you.
How Does Invisalign Compare to Metal Braces?
And what's your best option
Metal braces are an option for Invisalign patients, so it's important to understand the similarities and differences between these two treatment plans to allow you to choose the best one for your needs. Both options will help straighten your teeth or correct your bite. The benefits of Invisalign over braces are that:
Invisalign is more difficult to see, as the clear trays are subtler than metal brackets and wires.
Invisalign trays generally cause less discomfort than metal braces.
Invisalign trays are removable for short periods during the day.
Metal braces are not without their benefits, however. Some reasons you might want to consider metal braces include:
Metal braces being more affordable than most Invisalign treatment plans.
Metal braces cannot be removed, which may help children or teens stick with their treatment plan successfully.
Metal braces can treat a greater range of dental issues with more flexibility.
If you're interested in Invisalign, your dentist is your best resource. Make an appointment now to learn more about whether Invisalign is the right choice for your smile.